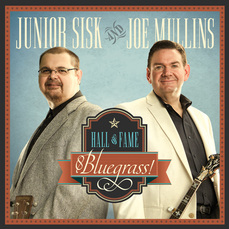 Joe Mullins & Junior Sisk have put the finishing touches on a new album. Hall of Fame Bluegrass! will be out October 22 and is a salute to the IBMA Hall of Honor.

Joe and Junior recruited an A-list group of pickers to help record this tribute to bluegrass' best. In addition to Joe and Junior (on banjo and guitar respectively), the album features Dudley Connell (guitar), Jesse Brock (mandolin), Jason Carter (fiddle), Marshall Wilburn (bass), and Rob Ickes (resophonic guitar).

The track listing for the new record is as follows.


1. Wild Mountain Honey – Osborne Brothers/Red Allen
2. The Bluebirds Are Singing for Me – Mac Wiseman
3. I'll Be There, Mary Dear - Country Gentlemen/Bill Clifton
4. Brand New Shoes – Bill Monroe
5. I'll Drink No More Wine – Jimmy Martin
6. I'll Never Make You Blue – Lonesome Pine Fiddlers
7. I'm So Happy – Reno & Smiley
8. No Blind Ones There - JD Crowe/Doyle Lawson/Pete Kuykendal
9. Greenville Trestle High - Doc Watson
10. Don't Let My Love Get in the Way - Del McCoury
11. Single Girl, Married Girl - Stanley Brothers/Carter Family/George Shuffler
12. No Doubt About It – Flatt & Scruggs/Curly Seckler/Josh Graves
13. They Can't Love Jesus More than Me - Jim & Jesse

The album's first single, WIld Mountain Honey, will be available to radio and for digital download beginning next week.

Make sure you get this one, folks. As Barney Fife would say, "This is big. REAL big!"