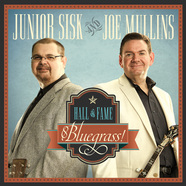 Joe's new album with Junior Sisk is officially released TODAY!
Hall of Fame Bluegrass!
is a tribute to the Bluegrass Hall of Honor. Joe and Junior recruited the help of their friends Jason Carter, Jesse Brock, Dudley Connell, Rob Ickes, and Marshall WIlburn to pay homage the first generation of bluegrass.
You can order the album through our online store, or download the album digitally through iTunes
here
. If you're a fan of hard-driving traditional bluegrass, you can't beat this one!