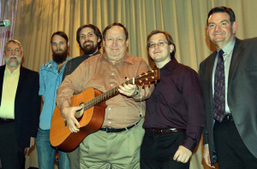 The Roberts Convention Centre in Wilmington, OH was a hotbed of award-winning bluegrass talent for two full days Friday and Saturday, November 8th and 9th. This biannual acoustic music event that occurs each March and November is a homecoming of nationally and internationally acclaimed musicians and music fans at one of Ohio's most comfortable convention centers. Last weekend's show included performances by Bluegrass Hall of Fame members and today's top artists.
One of the weekend's many highlights benefitted the
International Bluegrass Music Museum
located in Owensboro, Kentucky. Host band
Joe Mullins & The Radio Ramblers
and their official supply sponsor
Janet Davis Acoustic Music
offered a special Martin Guitar Raffle. The Thompson family, owners of Janet Davis Acoustic Music, donated a Martin guitar valued at over $1,800. Raffle ticket sales for the guitar were extremely successful and generated enough funds to make a $2,500 donation to the IBMM. Ed Gotway from Missouri was the lucky winner and was awarded his Martin SWDGT guitar on Saturday night before the close of the festival.
The International Bluegrass Music Museum, houses The International Bluegrass Music Hall of Fame. "2013 marks our tenth anniversary of producing this festival and we were grateful to have Hall of Fame members Doyle Lawson, J.D. Crowe, and Paul Williams performing. Working on a project to benefit the IBMM was a natural fit. The support from the bluegrass community and from our supply sponsor, Janet Davis Acoustic Music, will have lasting benefits as we assist the IBMM in meeting their fundraising goals so that we can continue to honor and preserve the rich history of the music we love," states festival producer and musician, Joe Mullins.
The IBMM, the only full-scale bluegrass music museum in the world, is working to raise $10,000,000 in order to move into a new state-of-the-art bluegrass center along the Ohio River. The new facility will include additional exhibit space, a 1,000-seat concert hall, an outdoor concert area for 2,000, a restaurant, an expansive gift shop, an international hall, a research library, teaching rooms, and more. "We owe it to the terrific bluegrass musicians, now living or gone on, to preserve their great legacy in the manner and style that is befitting their talent and creativity," states IBMM Executive Director, Gabrielle Gray.
Media sponsorship for the Southern Ohio Indoor Music Festival was provided by
Classic Country Radio
, WBZI AM 1500 and FM100.3, WKFI AM 1090 and WEDI AM 1130, with additional sponsorship support provided by
Cohen Recycling
,
Jeff Wyler Springfield Chevrolet
,
Janet Davis Acoustic Music
,
Deering Banjos
, and
GHS Strings
. For additional information, please visit
www.somusicfest.com
or
www.radioramblers.com
.