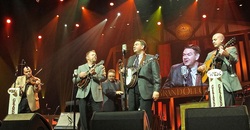 This time of year, it's common for folks to take a look back at all they've encountered through the year. We're no different and goodness knows, there's a lot to reflect on. It's been an amazing year! We started 2013 with a
#1
song on the
Bluegrass Today Monthly Songs
chart with "Bottom Of A Mountain". When you start the year off at the top, it's hard to think you've got anywhere to go other than down. But, that has turned out not to be so. The
Bluegrass Today Weekly Songs
chart has us at
#1
for December with the lead off single, "Wild Mountain Honey," from the duet album we have out with my friend Junior Sisk,
Hall Of Fame Bluegrass!
But, I've skipped over a lot so let's back up a bit.
In
January
, we said goodbye to our longtime friend and bandmate, Adam McIntosh, when he moved to Arizona with his family. And, we said hello to our new member, Duane Sparks, who has proven to be a wonderful fit for the Radio Ramblers! We also learned we were nominated for 2 SPBGMA awards; Traditional Gospel Group of the Year and myself for Bluegrass DJ of The Year. We kicked off
February
with a stop by WSM 650AM with Bill Cody where we visited and performed live for the listening audience. Wouldn't you know it, Rhonda Vincent showed up and we did a few songs with her, too!
March
brought another successful
Southern Ohio Indoor Music Festival
where we watched our good friend Doug Eyink and his music students receive a banjo from our friends at
Janet Davis Acoustic Music
. March also included a phone call to
WAMU's Bluegrass Country
DJ Katy Daley, for an on-air visit. It's always fun chatting with Katy! Speaking of our friend Doug Eyink, we had the pleasure to spend a good part of
April
promoting our video of
"Some Kind Of War"
which was filmed in Centerville, Ohio with Doug and his youth orchestra, Alternative Strings. It was such a moving experience working with these young people and with Doug, whose own personal battle with cancer in 2012, gave very special meaning to the performance. The Radio Ramblers also debuted at a couple of new venues to us during the month of April; Music City Roots and The Station Inn.
In
May
, our Studio Special with Kyle Cantrell aired on
SiriusXM's Bluegrass Junction
. We performed a solid hour of music live and had a ball visiting with Kyle, whose knowledge of bluegrass and traditional country music is just amazing!
July
will be considered a turning point in our career when a lifelong dream of ours was finally realized; a debut performance on the
Grand Ole Opry
. Bill Anderson welcomed us to the "circle" and with about 200 friends and family in the audience, I don't believe the night could have been any better. But sure enough, it did get better when Bill walked out on stage after our performance, took my hand, leading me to the front of the stage and invited us back for a return performance anytime! July was also the JMRR debut on
RFDTV
. We were thankful to be featured on
Reno's Old Time Music
and the show was televised again in early December.
August
brought the news of a nomination by the
IBMA
for Bluegrass Broadcaster of the Year! I was so humbled to be included in this category with so many colleagues that I admire. And Fred Bartenstein was also nominated
and won
for Best Liner Notes for the work he did on our Rebel Records CD,
They're Playing My Song
.
September
found us saying goodbye to our dear friend and bass player, Tim Kidd, as he decided to take a job that would keep him closer to home and family. We also found ourselves making return appearances to the Grand Ole Opry and the Station Inn with our new bass player, Randy Barnes in tow. We spent the last week of September in Raleigh, NC and were welcomed by so many friends in the business, as well as new fans that we made, while attending the
IBMA World Of Bluegrass Conference
. We performed live on
WAMU's Bluegrass Country
and Junior Sisk and myself did several interviews in promotion of our new CD,
Hall Of Fame Bluegrass!
, including one with
Bluegrass Today
. Junior and I were also fortunate to be invited to be presenters during the IBMA Awards and we had a ball!
In
October
,
Hall Of Fame Bluegrass!
was officially released to rave reviews and has been going strong on the charts ever since! Junior and I made a trip to Nashville in October, stopping by
WSM 650AM
for a live interview and performance and also went by the IBMA offices in Nashville to tape a "Backyard Bluegrass Session." In
November
, we were blessed with a wonderful feature in
Billboard Magazine
and a Track By Track with Kyle Cantrell aired on
SiriusXM's Bluegrass Junction
! Also in November, the Radio Ramblers held the most successful
SOIMF
to date with a packed house of bluegrass lovers! And, through the raffle of a guitar provided by Janet Davis Acoustic Music, we were able to donate $2500 to the
International Bluegrass Music Museum
!
That brings us to
December
with "Wild Mountain Honey" sitting at #1 on the
Bluegrass Today Weekly Songs
chart (weeks December 6 &13). I said at the beginning of this letter that 2013 had been an amazing year! None of it would be possible without God's blessing, loving families, faithful fans, DJs, promoters, media, and our JMRR team members. We truly are blessed beyond measure! I hope that each of you have a very
Merry Christmas
and that 2014 brings you a year of good health, love, friendship, and plenty of opportunity to take in some good bluegrass music! We love you and thank you!
Joe Mullins & The Radio Ramblers