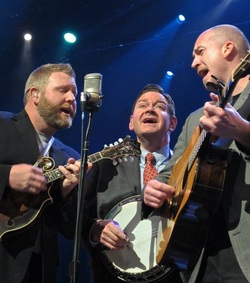 JMRR had a wonderful time in Nashville when they made their third appearance on the Grand Ole Opry and their debut appearance on Ernest Tubb's Midnight Jamboree on February 15th! The night started with an introduction by Grand Ole Opry member Jeannie Seely followed by the band's performance of "Bottom Of A Mountain" and the Grandpa Jones classic, "Fallen Leaves." Right after, Opry fiddler Earl White invited Joe to join him back onstage to play "Cherokee Shuffle" as the Opry Square Dancers kicked up their heels.
Around midnight, the band joined guest host Mike Scott for an evening of music at the Ernest Tubb Record Shop's Troubadour Theatre where JMRR performed "Some Kind Of War" and "Katy Daley" on the Midnight Jamboree. And to close out the evening, Joe joined Mike and Carl Jackson for a banjo grand finale of "Lonesome Road Blues." Be sure to visit the band's
Facebook page
to see photos from the incredible evening and their
YouTube channel
to watch their performance of "Some Kind Of War."