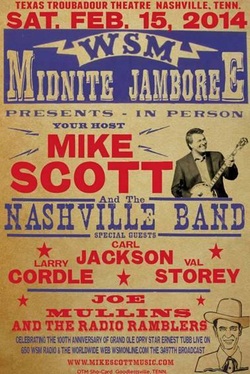 February 15th is going to be a big night for The Radio Ramblers. In addition to performing for the third time at the Grand Ole Opry, it wil be our debut on the historic Midnight Jamboree.

The Midnight Jamboree was started by Ernest Tubb at his iconic record shop, and is the second longest-running live radio show in the country (The Opry is first). This year would have been Ernest Tubb's 100th birthday, so The Midnight Jamboree is hosting a series of shows to salute this historic anniversary.

Joe's friend and fellow banjo player, Mike Scott invited us to be part of the show alongside Larry Cordle, Carl Jackson, and Val Storey. We are thrilled to be a part of such an historic broadcast, especially during the Ernest Tubb Centennial. (He's one of Joe's favorites!)

The best part is, the show is absolutely FREE! The Midnight Jamboree is broadcast from The Texas Troubadour Theatre, located right beside the Ernest Tubb Record Shop on Music Valley Drive. We hope to see you at midnight on February 15th following our Opry performance. You can also tune in to The Midnight Jamboree on WSM AM 650 or wsmonline.com.