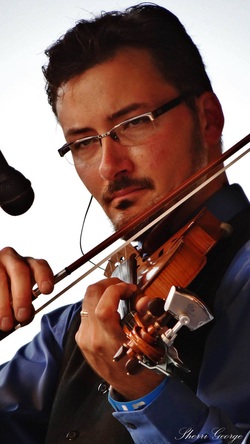 Joe Mullins & the Radio Ramblers
are proud to welcome
Jason Barie
as their newest member. Jason will make his official debut during the
Southern Ohio Indoor Music Festival
held in Wilmington, OH November 7th and 8th.
Jason started taking classical violin lessons in elementary school and after a couple of years, was mentored by Tom Henderson, owner of the Bluegrass Parlor in Tampa, Florida. Jason spent his teen years learning to play bluegrass and traditional music and filling in with local bands. Upon graduating high school in 1997, he performed four years with the Sand Mountain Boys, four years with Carolina Road, and two years with The Larry Stephenson Band. Jason has spent the last six years traveling with Doyle Lawson & Quicksilver. After a little rest from the road, Jason Barie is back in action, taking on the full-time fiddle position with the Radio Ramblers. "We're so thankful to welcome Jason," says Joe Mullins. "He's a first class gentleman and a very tasteful player. He has a great approach to our bands' sound and some beautiful, original tunes!"
Jason will be filling the spot recently vacated by Evan McGregor. "We are very thankful for Evan and his years as a founding member of the Radio Ramblers," continues Mullins. "His precision on stage and in the studio, both as a player and engineer, really helped define our sound. His parents, Larry and Bev, have been constant supporters as well. We are grateful."
Joe Mullins & the Radio Ramblers will officially debut their new lineup in Wilmington, Ohio on November 7th and 8th when they host their twice-annual Southern Ohio Indoor Music Festival at the Roberts Center. The event draws thousands in the spring and fall and touts being the largest indoor music festival in Ohio. In addition to the Radio Ramblers, the lineup of talent includes Russell Moore & IIIrd Tyme Out, Ralph Stanley II, James Kind Band, Flatt Lonesome, Special Consensus, Bill Yates & the Country Gentlemen Tribute Band, The Boxcars, The Larry Stephenson Band, The Crowe Brothers, and Blake Williams as master of ceremonies.
For more information on the Southern Ohio Indoor Music Festival, visit
www.somusicfest.com
.