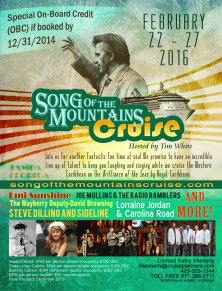 Joe and the Radio Ramblers are thankful to help headline the
Song of the Mountains Cruise
in
February 2016!
We mention it now so you can make plans for a fantastic vacation with several great Bluegrass bands and fans from around the country. Plus, if you book before the end of this year, you'll earn on-board credit you can use for a cabin upgrade or other activities on board the
Brilliance of the Seas
, with
Royal Caribbean
, sailing from Tampa, Florida, five nights beginning February 22, 2016!
We have a professional travel agency who can help you book reservations anytime. To enjoy great Bluegrass entertainment on this cruise, you must book through theSong of the Mountains Cruise office at
877-288-7711
.
IMPORTANT — PLEASE CALL the travel office listed and mention
JOE MULLINS & THE RADIO RAMBLERS
and the
SONG OF THE MOUNTAINS CRUISE.
Call by 12/31/14 for up to $200 in ON-BOARD credit! Make plans now and spread the word to family, friends and Bluegrass fans!