"Marvelous" Mike Terry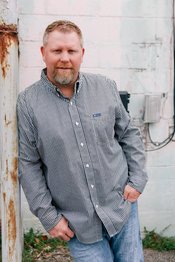 Mike Terry is well-versed on several instruments but is simply a master on the mandolin. He has performed nearly his whole life and spent over 12 years working with local bands and performed as a regular member of The Beacons before becoming a founding member of the Radio Ramblers in 2006. Mike keeps everyone in stitches with his good humor and often comical facial expressions, but mostly, he's known for his smooth lead vocals on some of JMRR's biggest hits including, "Bottom Of A Mountain," "Johnson Island Prison," and "Same Old Dipper." When he's not singing lead, he's anchoring the band's vocal trio with his solid baritone voice.
Mike resides in Kentucky, with his wife, Theresa, and daughter Klara. Their oldest daughter, Kayla, is married and is in the United States Air Force.
---