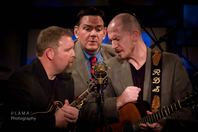 We had a fantastic time on our return visit to
Music City Roots
earlier this month! We shared the stage with some of our favorite people, The Isaacs and the Lonesome River Band, and made some new friends with Foghorn String Band! If you missed the show, you can watch it in its entirety online
here
. (We come in at about the 1:20 mark.) Special thanks to LuAnn Adams who took some great photos for us, including the one above. We've got all of them
on our website
.

We've been attending SPBGMA in Nashville for years and although we conduct a ton of business while there, it's also become a fantastic opportunity for some good ole socializing with so many of the friends and fans we've made over the last decade. We spent two full days at SPBGMA this year and performed on the main stage on opening night. On Friday, we hosted an Appreciation Luncheon for Talent Buyers and Radio Programmers with about 50 people in attendance. Thanks to EVERYONE who came to see us in Nashville - we look forward to returning very soon!
Alternative Strings is an organization of young people that we have supported for a while now. In fact, they'll be making an appearance at our spring SOIMF! Led by our dear friend, Doug Eyink, Alternative Strings is a group of orchestra students who perform Bluegrass, Celtic, Bebop, Swing, Celtic, Funk & Rock music on orchestral instruments.
This year, they are celebrating their 10th anniversary and we are honored to be with them on March 4th for The Bluegrass Blowout! The event will be held at the Centerville, Ohio High School Performing Arts Center and tickets are available now. General admission is $10 in advance or $12 at the door, and you may order your advance tickets by calling 937-619-8490.