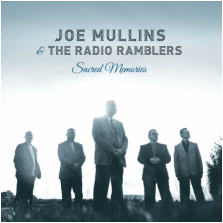 Joe Mullins & The Radio Ramblers
are
pleased to announce their new, all-gospel album on Rebel Records, Sacred Memories, is being released worldwide today, and is available for digital download via AirplayDirect
for radio programmers.
Consumers may purchase the album via
iTunes
and
Amazon
, and wherever great music is sold.
Sacred Memories
is the band's second all-gospel project following their highly succesful
Hymns From The Hills
release
of 2011. Mullins and the Radio Ramblers are joined by special guests who are beloved in both the bluegrass and gospel fields, including
Ricky Skaggs
and
Sharon White Skaggs
,
Rhonda Vincent
and
The Isaacs
. The collection also features new music from some of the top writers of Bluegrass and Gospel music:
Jerry Salley
,
Paul Williams
,
Billy Smith
and even a never-before-recorded song from the late
Randall Hylton
. The album offers great vocal variety and a wonderful set of songs. Notes Mullins, "Every vocal combination from our group is in the spotlight, which is very exciting for us. While the gospel message is throughout the album, several songs will appeal to listeners of all tastes and walks of life."
The band's first single, "All Dressed Up," has already debuted on the
Bluegrass Today Top 20 Songs
chart at #2 (4/1), and along with the album, early reviews have come in strong:
"Good call on the new single! Good song, and one that is fresh and unique to the Radio Ramblers"
— Rick Francis, Singing News Magazine --
After listening to the project I was in amazement. It is one of the best projects I've heard. It will get a lot of airplay on Kickin Grass, I assure you of that. Absolutely amazing! Definitely knocked it out of the park with this album. — Rodney Davis, Kicking Grass, WMJD 100.7FM -- Thank you so much for the new Joe Mullins CD. What a treat!! We are putting it with the first group to get it on the air!!! We need to get this one on the air before I wear it out!!!
— Gilbert Humphrey, General Manager, KJAB Christian Radio --
I had already been playing the single. I just checked out the entire project today, and man, it is a winner!!!
— Gentle Ben West, WMMT --
The Joe Mullins CD, Sacred Memories, is another great music testament to Bluegrass!!! Joe is a Class Act!
— Big Al Weekly, Program Director, WMJD FM --
Just now listened through the new album from Joe Mullins and the Radio Ramblers. Oh My! This is so good, go get it!
— Joe Stutzman, Heartland Bluegrass --
In addition to releasing "All Dressed Up" as the first single, Joe Mullins & the Radio Ramblers have also released a video of
"Will The Circle Be Unbroken"
featuring The Isaacs. Views of the video are part of the
"Share The Link, Share The Love"
campaign which will result in a donation by the band to
World Vision
, an organization supporting children in impoverished countries across the globe. The video may be viewed on the band's
YouTube channel
.