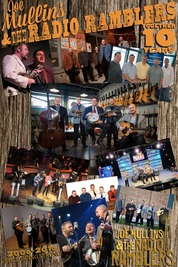 We're excited to be celebrating our
10th Anniversary
this year! It seems like this past decade has flown by and we are so grateful for all the friends and fans we've made along the way!! Thanks to each and every one of you for all of the support you have given us, all the miles you've traveled to see us, and all the love you've shown! Our hope is that we've returned it 10-fold!
We celebrated our first decade with an Anniversary Concert on Monday, May 16th. Thanks to the hundreds of friends who packed the place, making for a SOLD-OUT show! We had a ball with all of you!!
It's only fitting that we kick off our 10th Anniversary with something we've never done before - a European Tour! We'll be spending Five days covering the United Kingdom and Switzerland and plan to take in as much of the scenery and chocolate as possible! If you happen to be one of our International friends, make plans to come see us at one of these shows:
May 19 at 7:45 PM - Old Portsmouth, Hampshire, UK -
Square Roots Productions
- SOLD-OUT!
May 20 - Zweildlen, Switzerland -
American Folk Club Rocking Chair
May 21 - Willisau, Switzerland -
Spring Bluegrass Festival
May 22 - Liestal, Switzerland -
Kulturhotel Guggenheim
We'll be sending photos and updates to our good friends at
Bluegrass Today
who have graciously agreed to keep everyone posted on our travels. Be sure to check daily for news from "across the pond!" ​
Thanks to the
Dayton Daily News
and journalist Don Thrasher for this outstanding feature on JMRR and our 10th Anniversary!
Read The Complete Article Here!