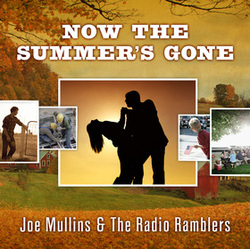 Rebel Records is pleased to announce today's release of
Joe Mullins & the Radio Ramblers
' second single
"Now The Summer's Gone"
from their upcoming full-length album release,
Another Day From Life
. The song can be purchased on many digital music sites, including
iTunes
and
Amazon
.
The variety of tunes both new and old on the new JMRR project cover life, love, and loss as well as work, war and worship. And this new single is a great opening track for their new album. "Now The Summer's Gone," comes from the pen of bluegrasser,
Barkley Davis
, a great young writer from Indiana. His father
Marvin Davis
has also written hits for 40 years, including "Bootleg John," which was made popular by
Ralph Stanley
in the 1970s.
"It's actually a hillbilly wedding song," says
Joe
Mullins
, "but it says nothing about shotguns, sisters or cousins! This tune is becoming a hand-clapping favorite with Radio Ramblers fans."