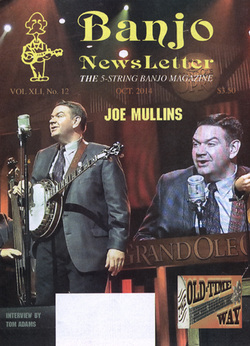 Joe was so honored to be featured on the cover of the October issue of
Banjo Newsletter
. Banjo man, Tom Adams conducted a detailed, in-depth interview with Joe, and we figured everyone would love to read it!
It may be lengthy, but we're sure you'll enjoy it.
From Tom Adams, "
What you'll read here is not a discussion about capos and string gauges or the intricacies of some up-the-neck backup lick, rather it's the larger picture of what goes into bringing you those special moments that turn the heads of 5-string players—it's that same dedication and discipline when Joe's talking about his radio stations or working hard on the vocals in the band—you can insert the words "banjo playing" or "practicing the banjo" into any of those paragraphs and come away with ideas to play your five better than you've ever played it before."
Enjoy!! And thanks again, Tom!