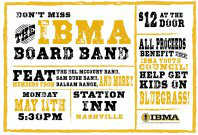 Join us as the IBMA Board Band plays for the first time to raise money for the IBMA Youth Council! All proceeds from the night benefit the Youth Council and their activities!
Joe will take the stage at the world famous
Station Inn
in Nashville, TN with Stephen Mougin of The Sam Bush Band, Alan Bartram of The Del McCoury Band, Tim Surrett of Balsam Range, Becky Buller, Jon Weisberger of Chris Jones and the Night Drivers, Junior Williams of NewTown, Danny Clark and John Goad. Tickets are $12 at the door, first come, first serve!